Allergen Information
Made in our dedicated bakery free of peanuts, tree nuts, gluten, dairy, eggs, soy & sesame. 
SOURCING
We have gone to great lengths to ensure the safety of our ingredient supply chain. Wherever possible, we source ingredients from single-source suppliers to reduce the risk of cross-contamination with allergens (the majority of our ingredients are in this category). For example, our flax supplier only grows and processes flax, our oat supplier only grows and processes oats. Our oats are harvested by an oat-only combine and processed in a gluten-free, oat-only facility.
SAFETY
88 Acres ensures product safety for those with food allergies by enforcing strict allergen-safety protocols. Each ingredient supplier is thoroughly vetted. Allergen and gluten documentation, and Certificates of Analysis are collected for each ingredient. Our bakery is certified gluten-free through the Gluten-free Certification Organization. We bake our snacks under strict regulations and perform routine tests to ensure our products are gluten-free.
CROSS-CONTAMINATION
Our bakery never allows the top 8 food allergens into the facility. All staff are extensively trained in cross-contamination protocols. Additionally, our bakery uses non-latex gloves to protect those with sensitivities to latex.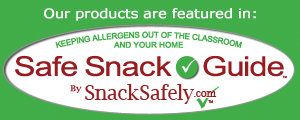 Please read ingredient labels on all individual products.
Cart
---