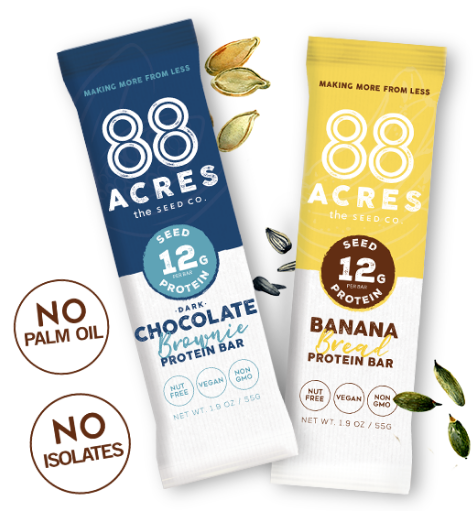 NEW! High
Protein Bars
Made without isolates or palm oil, our high protein bars are a simpler way of snacking. Our Dark Chocolate Brownie and Banana Bread Protein Bars are packed with 12 grams of protein from whole roasted pumpkin seeds. Ingredients you know. Flavors you love. Superior nutrition you can trust.
Enter your email below to get behind the scenes access to our process for developing our new product line. Learn how we chose everything from the flavors and formulas, to the design and packaging. Plus, get the chance to order them 24 hours before everyone else!
Making More From Less
At 88 Acres, we only use the best and simplest ingredients - our new line of high protein bars are no exception. A vegan protein source from all non-GMO ingredients for better snacking. All of our snacks are made in our dedicated Bakery free of peanuts, tree nuts, gluten, dairy, eggs, soy, and sesame.
The Seeds Co.
Discover the power of seeds, the building blocks of our Superior Nutrition philosophy.

environment
Seeds have lower greenhouse gas emissions than animal-based protein and a smaller water footprint than nuts.
whole protein
Protein from whole seeds, never isolates, that deliver micronutrients to help you go the extra mile.

made right
Crafted without the top eight food allergens. Strong snacking for every body.
Get Early Access & Exclusive Content
Sign up below to get an exclusive behind the scenes look at how our new high protein bars were made. From the ingredients to the packaging, you'll learn what inspired us to create a new kind of high protein bar.